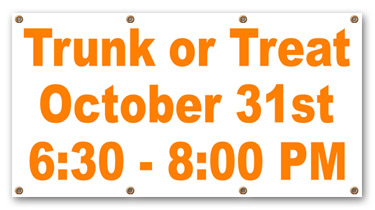 Sturdy Weather-resistant Banners!
Banners are excellent for both indoor and outdoor use, as attractive and cost-effective advertising, or trade-show and display backdrops.
Our standard banners are $4 per square foot on 13 ounce, weather- and wear-resistant vinyl canvas. All banners are finished with a stitched hem and grommets for easy installation.
In stock sizes are 96 X 48 (8' wide by 4' tall) and 72 X 36 (6' wide by 3' tall). However, we can create custom banners in any size to suit your specific needs. Call us today for details.